Decisive phase in battle for Jaffna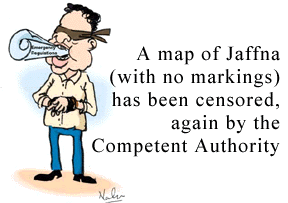 As the 17 year long separatist war reaches a decisive phase and the nation is in throes of its worst crisis, the words of Chinese philosopher Sun Tzu, two and half thousand years ago, seems still relevant.
Prophetic as it may sound, this is what he said about waging war:
"In the operation of war, where there are in the field a thousand swift chariots, ten thousand heavy chariots, and a hundred thousand mail-clad soldiers, with provisions enough to carry them a thousand li (2.78 modern li make a mile), the expenditure at home and at the front, including entertainment of guests, small items such as glue and paint, and sums spent on chariots and armour, will reach the total of a thousand ounces of silver per day. Such is the cost of raising an army of a hundred thousand men.
"When you engage in actual fighting, if victory is long in coming, the men's weapons will grow dull and their ardour will be dampened. If you lay siege to a town, you will exhaust your strength, and if the campaign is protracted, the resources of the state will not be equal to the strain. Never forget: When your weapons are dulled, your ardour dampened, your strength exhausted, and your treasure spent, other chieftains will spring up to take advantage of your extremity. Then no man, however wise, will be able to avert the consequences that must ensue.
"Thus, though we have heard of stupid haste in war, cleverness has never been seen associated with long delays. In all history, there is no instance of a country having benefited from prolonged warfare. Only one who knows the disastrous effects of long war can realize the supreme importance of rapidity in bringing it to a close. It is only one who is thoroughly acquainted with the evils of war who can thoroughly understand the profitable way of carrying it on.
"The skilful general does not raise a second levy, neither are his supply wagons loaded more than twice. Once war is declared, he will not waste precious time in waiting for reinforcements, nor will he turn his army back from fresh supplies, but crosses the enemy's frontier without delay. The value of time — that is, being a little ahead of your opponent — has counted for more than either numerical superiority or the nicest calculations with regard to the commissariat.
"Bring war material with you from home, but forage on the enemy. Thus the army will have food enough for its needs. Poverty of the state exchequer causes an army to be maintained by contributions from a distance. Contributing to maintain an army at a distance causes the people to be impoverished.
"On the other hand, the proximity of an army causes prices to go up; and high prices cause people's substance to be drained away. When their substance is drained away, they will be afflicted by heavy exactions. With this loss of substance and exhaustion of strength, the homes of the people will be stripped bare, and their incomes dissipated; at the same time government expenses for broken chariots, worn out horses, breastplates and helmets, bows and arrows, spears and shields, protective mantlets, draught oxen and heavy weapons, will amount to almost half its total revenue.
"A wise general makes a point of foraging on the enemy. One cartload of the enemy's provisions is equivalent to twenty of one's own, and likewise a single picul (a Chinese unit of weight equal to 133.33 pounds) of his provender is equivalent to twenty from one's own store.
"Now, in order to kill the enemy, our men must be roused to anger. For them to perceive the advantage of defeating the enemy, they must have their rewards. Thus, when you capture spoils from the enemy, they must be used as rewards, so that all your men may have a keen desire to fight, each on his own account.
"Therefore in chariot fighting, when ten or more chariots have been taken, those should be rewarded who took the first. Our own flags should be substituted for those of the enemy, and the chariots mingled and used in conjunction with ours. The captured soldiers should be kindly treated and kept. This is called using the conquered foe to augment one's own strength.
"In war, then, let your great object be victory, not lengthy campaigns. Thus it must be known that the leader of armies is the arbiter of the people's fate, the man on whom it depends whether the nation shall be in peace or in peril."
It is five years and 25 days since the so-called Eelam War Three broke out. After peace talks with a newly elected People's Alliance Government failed, Tigers attacked Naval craft at the Dockyard in Trincomalee, home for the Sri Lanka Navy's Eastern Command. The Government vowed to crack down on the LTTE. A newly appointed Deputy Defence Minister, Anuruddha Ratwatte, helicoptered from camp to camp assuring soldiers there would be no more talks with the LTTE. They were ordered to militarily weaken the Liberation Tigers of Tamil Eelam (LTTE). Service chiefs were given a time table to complete the crackdown in six months. They complained the time frame was inadequate since procurement procedures were time consuming. The Government promptly did away with tender and other long drawn out procedures meant to ensure the proper use of state funds and the most suitable items procured.
The rest worked and an ambitious military campaign got under way. That began with "Operation Riviresa", a string of offensives that led to the Censored Censored Censored Censored Censored Censored Censored Censored.

It was here that the Tigers ran a parallel administration with police stations, law courts and a tax collection machinery. Ironically, funding for such an "administration" came from the Government in Colombo, which had to demonstrate that its writ ran in the north. So, when the Government held a nationally publicised ceremony on December 5, 1995, to mark the re-capture of the Jaffna peninsula, there was much to gloat about.
Nowhere in the world had a guerrilla group held territory and run a "parallel" administration. Now, that was no more. They had no population to "rule," no means to collect taxes, no youth to recruit and no bases to mass produce improvised explosive devices. They had been swept to the jungle and it was a matter of time before they were "wiped" out.
Censored Censored Censored Censored Censored Censored Censored Censored Censored Censored into a political career that created history. He joined the ranks of a full fledged General for leading the troops "from the battlefield" to re-capture Jaffna. From then onwards, in full battle fatigues he executed the Government's war effort. Many an operation was planned and executed by him. So much so, he confidently declared that 96 per cent of the separatist war was over. Censored Censored Censored Censored Censored Censored Censored Censored Censored.
Censored Censored Censored Censored Censored Censored Censored Censored Censored Censored Censored Censored Censored Censored Censored, it had also lost a strategic military complex that had remained intact under successive Governments.
The Defence Ministry insisted the local agents of the suppliers were not welcome and were being kept out to prevent them from making commissions. A wise move. In fact the far reaching provisions of the Public Security Ordinance should have contained provisions to confiscate properties of those involved in corruption in procurements. There were none.
And this 800 million US dollars is being spent after five years and 25 days of war that prompted Deputy Minister Ratwatte to

tell a nation that 96 per cent was over. Censored Censored Censored Censored Censored Censored Censored Censored Censored Censored Censored Censored Censored Censored Censored Censored Censored Censored Censored Censored Censored Censored Censored Censored Censored Censored Censored Censored Censored Censored . If the claim now, perhaps for very justifiable reasons, is the need for more defence equipment, senior security forces officials ask whether adequate manpower could be mobilised to put them to use. Censored Censored Censored Censored Censored Censored Censored.
The question comes to the fore at the most decisive moment in the 17 year long separatist war. Having secured the Elephant Pass sector and ousted troops from their defences CensoredCensored, the LTTE stepped up their thrust towards Jaffna. Then came a message from the LTTE that was to send shock waves in some sections of the defence establishment a Censored Censored Censored Censored Censored.
It came when Media Minister, Mangala Samaraweera, was facing the CNN camera at an interview at the Information Department. He was in a confident mood as he answered questions fielded by South Asia Correspondent, Satinder Bindra. News arrived that the LTTE had made an offer for a temporary ceasefire. The interview was interrupted as Director of Information, Ariya Rubesinghe, briefed Mr Samaraweera about the contents of an Censored Censored release from London. Censored Censored Censored Censored:
Minister Samaraweera responded to a question from Mr. Bindra and gave the Government's response. He said that there was no question of a troop pull out. "Troops will be withdrawn only after there is a peaceful settlement," Mr. Samaraweera declared. He said the LTTE call for a temporary ceasefire was a psychological operation. The same view was later expressed by Mr. Rubesinghe to other foreign media.
To the discerning, the LTTE statement was more an ultimatum than an appeal. They were conscious that the Government would not heed a call to remove troops for that would be a total surrender. Yet, it was a message which was a prelude to the launch of a fresh offensive. But, sections of the Government including some in the intelligence community thought otherwise. They felt the LTTE was in deep trouble and the appeal was only a ploy to buy time. They argued that the lull in fighting in areas north of Elephant Pass was also due to the same reasons.
The LTTE thrust to seize the Jaffna peninsula has continued since then. Troops have put up stiff resistance and inflicted heavy casualties on Tiger guerrillas. Censored Censored Censored

Censored Censored Censored Censored.Censored Censored Censored Censored Censored Censored Censored.
President Chandrika Bandaranaike Kumaratunga has had a series of crisis meetings with the National Security Council. On Thursday night, Overall Operations Commander, North, Major General Janaka Perera, was on hand to give a briefing on the prevailing situation. He expressed confidence that troops will be in a position to bring the situation under control. However, he said he required additional troops and equipment immediately to meet the rising threat.
Military officials said re-inforcements have already moved into the Jaffna peninsula.
The fate of the Jaffna peninsula now remains on how much Censored Censored Censored Censored Censored Censored Censored. how best troops will be able to counter their advance.