Islets lost to the past
Cruising down the Madu Ganga, Gamini Punchihewa brings us ancient sites and sights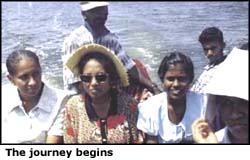 Struck by wanderlust, in March this year I explored the Madu Ganga (off Balapitiya) and its enchanting islets. My base was Kurunduwatta, a mile from Gintota, where I was hosted by my old friend-Lakshman Edirisinghe (Surveyor and Court Commissioner) and his charming wife, Lalitha. Lakshman's friend, Justin de Silva from Unawatuna (also a Surveyor and Court Commissioner), took us on our expedition in his car.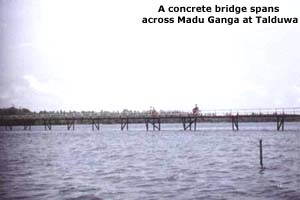 From Galle Road, near the Pategamgoda junction, we took a road going past the railway station and came upon the serene waters of the Madu Ganga nestling amidst the mangroves.
A concrete bridge, 1200 feet long (used by push bikes, motorcycles, hand-tractors and three wheelers) spanned the river at Talduwa connecting Gonduwa and Maduwa.
At the Talduwa boatyard we met Mr. H. Gunadasa de Silva of Maduwa who was to accompany us on our trip. A social worker and environmentalist, he is the founder President of the Saviya Development Foundation of Balapitiya.
This Galle-based NGO has undertaken a mangrove rehabilitation project in Madu Ganga and works with the Central Environmental Authority and the International Union for the Conservation of Nature (IUCN).
History and legend
The Madu Ganga is rich in history and legend and many were the fascinating stories Mr. de Silva told us during our trip. What is today known as Madu Ganga was in years past called Welitota.
It is said that the Madu Ganga had 64 islets but only 23 are to be found today. The largest of these was called Maha Duwa which is currently Maduwa.
Many are the references to Welitota in verse and prose. The epic Sinhala-Sandeshas (message poems) such as the 'Tissara Sandeshaya' (lines 67-68), 'Gira Sandeshaya' (lines 109-110)and 'Paravi Sandeshaya' (77th line) of the Dambadeniya period of King Parakrama Bahu II (13th century A.D.) all extol its beauty.
What we know as Balapitiya and its environs up to Thotagamuwa were known as Welitota. The other ancient landmark is the Welitota Ambalama which is mentioned in the 'Gira Sandeshaya' and 'Sidath Sangarawa'. It was considered a seat of Buddhist philosophy, so much so that monks from Burma and Siam are said to have visited it.
Army garrison
There is also an account of a brave and chivalrous prime minister called Deva Pathiraja in the reign of king Parakrama Bahu II (Dambadeniya 13th century A.D.) who by reinforcing an army garrison around Welitota was able to repel foreign invasions.
As this place was reinforced by an army, (bala senavak), it came to be known as Balapitiya (a plain reinforced by an army).
Interestingly in ancient times the Madu Ganga was known as the Veli Ganga (sandy river).
Next: Kothduwa where the Buddha's Tooth Relic was once enshrined.