Making a difference with a drop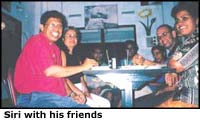 I suppose it's inevitable really, that throughout my stay in Sri Lanka I've met, been introduced, spent time with and got to know a huge variety of people - from different walks of life. Synchronicity - yet another title for a chapter in my Sri Lankan adventures.

I'm forever being taken aback by the way things fall in my path at just the right time in Sri Lanka. Most recently I've had cause to consider one such acquaintance that stopped me in my metaphorical tracks whilst on my travels in Sri Lanka. I met Siri Goonasekara completely by chance after stumbling upon 'The South Ceylon Vegetarian Restaurant and Lodging' whilst on a weekend break in Unawatuna.

Having tried and tested the breakfast of muesli and fruit (my favourite back in England) I took in the surroundings. I noticed a set of very relaxed-looking clientele and various familiar-looking Buddhist literature and imagery. Much of the literature on the bookshelves belonged to the meditation centre that I visit back in England, the 'FWBO' or 'Friends of the Western Buddhist Order'. This long distance reference to my Manchester routine had me stunned.

"Meditation practice is at 6 O'clock if you want to join us," smiled Siri. Siri offered far more than good food in his restaurant - meditation lessons/practice, a library of Buddhist literature and a mine of information were also on hand, free of charge.

Digging into that mine it seems Siri Goonasekara really is a restaurateur with a difference. Committed to his Buddhist beliefs and by extension vegetarianism, his restaurant is a perfect vehicle for inspiring and educating likeminded clientele as well as providing a livelihood. As we chatted Siri told me of his time spent in New Zealand as a social worker, his involvement with the charities, Oxfam and Amnesty International there and the lessons he learnt about racial integration in that time.

Siri told me, "It was sad to see that despite the liberating experience of travel, the ethnic and racial hatred between the Sinhala and Tamil people still exists. Instead of a sense of shared experience or common ground it seems that suspicion, tension and fear prevail and the tension is increasing."

He started meditation and 'friendship groups' outside the boundaries of ethnic and cultural division and in developing this, witnessed what he sees as a key to helping the future of this country, 'Teaching acceptance and integration to our children from a very young age'.

In New Zealand the school systems adopt a firm stance of positive acceptance of the Maoris (the indigenous minority in New Zealand) which Siri believes to be the grounding for the lack of violence and militant activities from the Maori extremists. In response to this he aims to approach schools with the idea of 'awareness raising race-relation workshops that aim to educate kids with history and Tamil issues'. "And," he added, "people are happy to fuel the war with hatred and funds, but not with themselves or their children's lives." What Siri does have however is a commitment of peace for his country. Siri and his individual quest to apply his comparatively tiny personal ideals to the war that affects a nation. His one-man efforts might also be deemed as 'just another drop in the ocean' but the ripples of the effect this time, could be significant enough to matter.

---
Emotional intimacy-key to a happy marriage
By Siromi Gunesekere
"The 21st century woman conjures up the picture of an achiever and is no longer that of a mother holding a baby in her arms," said Ms. Anne Abeysekere, tracing the history of women during a seminar held on April 6.

Ms. Abeysekere, a past pupil of Ladies' College, was present at her alma mater to speak on 'The challenge of home and family to the 21st century woman'.

Present and past pupils, teachers, parents and well-wishers were gathered in their numbers at the second 'Centenary Seminar Series', part of the school's centenary celebrations.

A mother of seven and happily married for 54 years, journalist and counsellor Mrs Abeysekere said, "Girls were trained to be homemakers and cooked, cleaned, raised children and did all the dirty work around the house."

Quoting from the Sinhala text, the 'Kavyasekeraya', she said, "Wash your husband's feet when he comes home, seek out your husband's desires in food etc." At a time when Sri Lanka was a British colony following their traditions and gender equity was unheard of and any man would have regarded the above as the ideal recipe for marriage.

But according to Ms. Abeysekere, when the Catholic Nursing Nuns came to Sri Lanka in 1886, the education of girls was advocated so they would develop confidence and have too much self-respect to be dependent for life. By 1902, there was a growing desire for the education of girls, since that was the key to the emancipation of women from drudgery.

"Yet it is often said that the breakdown of family life and the increase in juvenile delinquency are due to women entering the workforce," adds Ms. Abeysekere stating that there was another side to this issue. "Today if a woman is a housewife she is considered an oddity. She has low self-worth." In fact one such friend of Ms. Abeysekere considers herself a 'nobody'.

She went on to relate the incident of Ms. L.D.N. Jayasekere, whom she interviewed in 1947. Living in a remote village called Itthapana she "had applied for the post of headman or leader and there was a lot of derision and anonymous letters sent to her". Yet in this modern day and age the situation is different, since Sri Lanka has signed the UN Convention against the discrimination of women.

As a counsellor Ms. Abeysekere sees the institution of marriage in trouble, which is in contrast to the views of John Davy. "John Davy, who wrote a book in 1825 on Sri Lanka, commented that there were strong family ties here and that a family is the focus on which a native centred his love."

Ms. Shirani Ponnambalam's writings on the law and family, which state that the dissolution of marriage is a factor of life in Sri Lanka, were discussed by Ms. Abeysekere. "A lady I know once said that there was no longer a stigma in divorce. Today she is a working partner. I don't suggest we put the clock back," she emphasised.

Yet, although she firmly believes in the right of women to pursue their chosen goals, she feels that there are important factors that both men and women should consider.

Infidelity, according to Ms. Abeysekere, is a definite factor to be taken into consideration. Then there are other factors like who gets up at night if the child calls? Or who stays at home with a sick child? "I met the priceless asset of a stay-at-home father of twin girls. He's a minister and works too." According to him the experience of staying at home had enriched his life, and some time away from home helped his wife. "Yet this is the exception, rather than the rule. Most men come to me with complaints that their wives imbibe 'western' ideas not suited to our culture. In our culture men do not wash diapers."

This Ms. Abeysekere feels is the challenge to the modern couple; to be open with each other and adjust. According to her it is important that a couple finds the time to talk together. "Emotional intimacy is even more important than a happy sex life - it is human relationships that make a success of life."

She says the biggest challenge for the 21st century woman is coping with motherhood. The first serious deprivation for the child is breast-milk, if the mother goes out to work. It is the baby's right and it also forms a close bond between mother and child.

The family is the basic unit and it decides whether we send out hate-filled adults from a tension-filled home or caring persons from a happy home. "Whoever the man may be, however successful he is in life, he achieves peace through the affection and understanding of the family," she added.