Romance that started with a photo
Down Memory Lane
By Roshan Peiris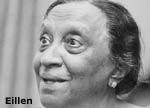 "My four sisters were very protective of me, like mothers. As I grew older and did well at school, coming first in class through the years, they were thrilled and very proud of me," soft- spoken Eileen Siriwardhana, wife of top civil servant D.B.I.P.S. says reminiscing about her large family of seven.

Eileen, the youngest in the family which also included two brothers, lived in Matara in a huge house with a rambling garden full of cadju trees. "In the mornings I used to collect the cadgu puhulan with my mother. It was a calming way to begin the day."

The Nilwala Ganga was close to her home and her mother used to swim in it. Though Eileen accompanied her to the river she did not swim because she was frightened of the water.

A shadow of sorrow passes across Eileen's face as she says, " I cannot recall my father who died when I was small. But seeing his photographs I have built up my own image of him."

"I loved eating dhal. It is still my favourite food and my family used to tease me about my unsophisticated taste. I also liked wellbaked hoppers, which I still do."

In school, Eileen says, she was quiet and considered an intelligent student topping the class until Grade 8. "The history teacher was strict. She spoke of a historical figure called Wickremesinghe which was my maiden name. The whole class burst into laughter, including myself. We all got a cut each on our palms with a ruler, for laughing. That was the only punishment I received in school."

"My second brother who lived in Colombo sent me gifts for doing well in class, they were dolls. I love dolls even now. I have cherished them and also those of my daughter Cyrene, who lives in London now, after marriage," she said.

According to Eileen she was inept at sports, but made up for it by singing, oratory and acting, even winning competitions.

She attended school in Matara at first, but did her university entrance exam from Visakha Vidyalaya. At that time little did Eileen think that from 1981 -1988 she would be Principal of this leading Buddhist school.

Recalling life at the university, she says, "To me university was like another world . I was boarded at Lauries Road, Bambalapitiya and did a leisurely walk to the university each morning.

"The hectic pace of work and the many trips we took to the ruined cities and even Yapahuwa interested me.

"I took part in two plays at the university, Tagore's Sacrifice which was translated into Sinhala and was called Billi Pujawa. I won the award for the Best Actress."

Later she acted in W.A. Silva's Sunethra in which her future husband who was also a university student took part as the Bishop.

She was friendly then with the brilliant Deraniyagalage Basil Ivor Peiris Samaranayake Siriwardhana, but had no special relationship.

"He came to see a friend of mine after I had passed out, and became an assistant teacher at Princess of Wales College, Moratuwa. I asked my friend Monica Peiris to ask her bearded friend for copies of the Harvest magazine to which he wrote regularly." Eileen was teaching English to the A. Level class.

"She got me a few magazines and I returned them to him, through her," she recalled.

She was surprised and embarrassed when she got a letter from DBIPS saying, "Ile, remember not to leave your photographs when returning books." A tiny photograph of herself, three students and three teachers, had been in the book. She had also never been called "Ile", before this.

When they, DBIPS, she and three girls went on a trip organised by the university to Yala, he barely left her side.

"We were engaged for two years and married at the Registrar's Office, since his parents did not approve of him marrying me. They had hopes of him marrying a girl with a large dowry from a well- known Colombo family," she recalls.

They honeymooned in Arugam Bay, Batticaloa and came back to live in a rented house in Nugegoda, close to St. Joseph's Convent where she taught.

Finally, with a government loan they built the house she now lives in at Nugegoda. DBIPS died of a heart attack a few years ago.

"He was a perfectionist. He looked after the house, the children and the garden. When any of the children fell sick he worried himself a great deal. I really had nothing to do," Eileen recalls, her eyes full of unshed tears.

"He lost his temper over little things, but got over it soon saying, 'All great men have a tragic flaw'!' I never spoke back or argued."

They have two boys and a girl.

"I translated Alberto Moravia's Roman Tales for my students.

He got me to publish my Sinhala translation in book form. It was my first book.

"My second book was a novel Ahasin Polowata' which was made into a film by Lester James Peiris and exhibited at the International Cairo Film Festival."

It won the Award for the best film from a Third World country. Eileen has since published 24 books including an English poetry book called Realisation.

Eileen submitted Balan Harimi Kadathurawa in 1986 in manuscript form for the D.R.Wijewardene Award. " I did not tell him, as he would have advised me against it since he never wanted me to be defeated in anything. He was so protective."

When she was Principal of Visakha she was told she had won the award. "When I rang my husband and told him the good news, he was thrilled."

---
Inspirational moments
By Laila Nasry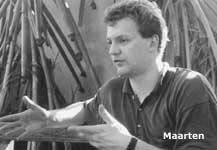 "It is indeed an experience being part of the World Press Photo Exhibition and apart from small monetary gains, what photographers gain the most is prestige and recognition," says Maarten Koets, an equally privileged man — the project manager of the world's best press photographic exhibition.

The World Press Photo Exhibition is an annual event organised by the World Press Foundation. It is held in 80 cities and 40 countries worldwide and has the distinction of being shown at the United Nations in Geneva. It is on at the Barefoot Gallery till May 14.

The main aim of the exhibition is to inform the public through photographs of things happening around them. Inform people of moments which have passed them by. Moments of great importance-those which created world history. "The photographs displayed at the exhibition are of the highest standards, there is no stereotyping. It captures all the currents in press photography," Maarten stressed.

"It's a wonderful way of getting inspired," Maarten says for up and coming press photographers. The pictures provide a forum for learning photographic techniques, for these pictures are the creations of the masters in the profession.

The exhibition is organised for all professional press photographers and to be eligible 60% of their income needs to be generated by press photography. Entries for the exhibition pour in from around the world as entry forms are made available through embassies, newspapers, camera sales centres etc. The photographs are classified under the different categories of spot news, general news, people, daily life, portraits, national environment, science and technology, sports and arts.

For this year's exhibition there were around 40,000 entries of which 195 photographs were chosen on the pictures' composition, lighting, information value and originality by a nine-member panel of judges. However, Maarten does agree that the exhibition is dominated by pictures from press photographers from America and Europe. He puts it down to the mere fact that "World Press Photo is better known in those countries and press agencies over there entering their photographers".

The biggest challenge other than the cost incurred in taking an exhibition such as this worldwide is "getting into a country". Especially getting to know people who support such an endeavour. Nevertheless the exhibition has been shown in several countries and at each place in its entirety. Never have photographs been omitted due to censorship.

According to Maarten in Turkey some photographs resulted in raised eyebrows as it was claimed that those pictures would sour the country's relationship with Israel. "The exhibition was not held in Turkey because we will not host an exhibition without all the photographs." The World Press Photo Foundation survives on photographers' participation. Thus many projects have been organised to encourage new photographers to take to the profession. 'Master class' is one such project where five young promising photographers are chosen and trained in the field. "Results are seen later and this time two of the pictures at the exhibition are from those who have been in the Master class."

Maarten finds the "organisation of the exhibition here in Sri Lanka very professional". However, he feels the press have not "picked up on it upto now". Questionnaires have been prepared for students and others viewing the pictures in an effort to get a feedback. Though the World Press Foundation is not involved in grassroots levels, once the exhibition is over, its organisers- Barefoot Gallery and the Netherlands Embassy- will hold a seminar and workshop for local press photographers.