A track... a flag and winners
Rakitha's guts and glory
By Laila Nasry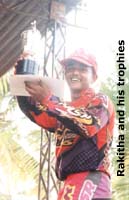 He was the youngest ever to race and remains a jolly good one at that. At 18, he is Sri Lanka's best stunt driver. His jumps are high and he does the craziest of stunts - giving flying kisses to the crowds or taking his feet off the pedals and spreading them wide - in midair. He's a performer. He likes keeping the spectators at the edge of their seats, thrilling the crowds and giving them something to remember. This smooth driver is Rakitha Wijetunga.

Rakitha was just seven when he first got a taste of what riding a motorbike was like. It was the Nuwara Eliya season and his father who was dealing in motorbikes had taken Rakitha to the hills for the races. "I always liked bikes and seeing the others ride that day made me want to ride as well. So I just took a bike and rode." Those fun laps young Rakitha did on that day without falling was destiny taking shape.

For his dad having spotted his talent asked him whether he'd like to race. The answer was a most definite 'yes' and there was no stopping him. The family's response was different specially that of his 'Nanna', who was shocked and thought his parents crazy to send their only son for a sport that promises as many spills as thrills. But Rakitha won over his grandmother at the very first race she came to watch. "After seeing him ride with skill and confidence I felt more or less assured."

He has been racing for 12 years now, with the first one at Pannala (which he claims is his lucky track) being a real tester, for his bike had stalled. But this did not deter the youngster, who went on to win at the next race at Ja-ela. It was a gradual but successful climb to success which saw Rakitha move from 50 cc standard to 80 cc racing and presently the 250cc class in which he races his 125 cc bike.

His achievements are impressive. Having beaten the five-time Sri Lanka champion, he has won five first places and a third place in 1995. He had also won the MRF Motor Cross in Bangalore in 1996. His biggest was when he beat Ananda Wedesinghe at Pannala in 1998.

Rakitha learnt the basics from Shane Gunewardene a fellow racer whom he beat in 1995. Then on it was just Rakitha, his machine and his guts and boy didn't he go places. Racing according to him is not just a powerful machine. It also requires skill and expertise. So he started doing things on his own, working hard on his jumps and putting in a lot of innovation. "I practise my jumps a lot because I want to give the crowds something to look forward to." But he insists there is a limit you can push yourself to and he has never crossed it. One thing that racing has taught him was mental discipline. "It teaches you to concentrate because you have to think of yourself, the person before and after you when doing anything."

Racing for Rakitha is confined to the track alone and he is only seen cruising on the roads of Colombo on his bike for the mere reason that "my father has given me a 50 cc, which goes no faster than 60 km per hour. But it's a lovely bike and people look at it. I enjoy going slowly checking out the 'scenery'.

---
Nalin: The Superfox to be
By Ruhanie Perera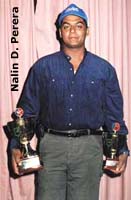 Most racers have always wanted to race. They are born with a restless spirit and the unquenchable thirst to race has been a part of their souls. Nalin D. Perera, a very different type of guy never really thought of himself as a racer - "sure as a guy I used to watch races and was into that sort of thing but I never really thought about racing". Until three years ago when he just wanted to race...and race he did.

Nalin, is someone with grit and determination. He has what it takes to make sure his dreams come true. And once he decided that racing was his heart's desire there was no stopping him. Not even the fact that his parents were dead against their only son racing. "Even my two sisters were not at all pleased with my decision to race. They still haven't come to watch any of my races." His family is convinced that racing is a dangerous game, but for Nalin it's a challenge. "The thought that I may get injured doesn't even cross my mind. All I can think of is winning."

It was unbelievable, but sure enough all this guy could think of was winning. He was a person of few words and those words were all about "winning - not 3rd place, not 2nd place, but 1st place". If he's not behind the wheel racing, then he's watching tapes of races, checking out the track, thinking up strategies on how to take difficult bends or just wondering how to update his car so that it is technically perfect. "Every little detail is so important, you just can't afford to overlook anything. All I keep telling myself is that I've got to get it right."

Is the guy ever nervous? Scared? Not a chance - Nalin loves driving, is never scared and just hates to lose. His friends say he has a 'yakko' style. An almost daredevil way of driving, which seems to guarantee him a win every time.

This winner doesn't steal all the limelight. "The technical guys from Bathika Motors are my biggest support. They go with me for my races, tell me how I can improve my car and even give me tips on my racing." He also gets a lot of encouragement from Team Mobil - "someone is always there to pat me on the back".

Judging by his winning streak he must have got a lot of pats. This season alone is a success story in itself. At the Kotmale Hill Climb and the Mahagastota Hill Climb he bagged first place in the Group A cars 8-10 kg/HP event. His biggest success so far was at the Radella Hill Climb in the Group A cars 8-10 kg/HP event where he set a new class record with a timing of 41.03 seconds - "I was coming third in the event, I just couldn't let that happen to me. I suppose that's what made me go all out." Well, it certainly worked. More recently at the Foxhill Supercross Nalin came first in both his events.

Someday in the very near future this guy is determined to be the next Superfox. "I want to be racing king," he says with a look of determination. Well, it sure looks like he will. For this guy is definitely driving up the road to success.