Young 'uns on stage
By Laila Nasry
The teacher tries to get them to pose for our camera. However, the giggling, laughing, friendly shoving and crazy comments persisted. One thing is for sure, these kids are having a ball. They were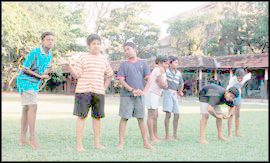 enjoying every minute of it. This production is totally different from the others, it is not done in anticipation of thunderous applause, standing ovations or glossy reviews. But done for the sheer joy and pleasure such activity can bring. An opportunity to have fun, to make friends... to just show off.
"Just Showing off" is the brainchild of Samantha Abeyweera de Soysa who is in charge of the Yolande School of Speech and Drama. It is the end production of a workshop done by her junior students between the ages of 5 to 13. The production is a culmination of short items which are relative to the childrens' age and capability. This will include items like poems, excerpts of prose, choral speeches and small dramas like 'The King who took the Sunshine'.
The best thing about the production is the fact that it does not call for high standards of perfection and there is no compulsion on the children to reach pre-conceived standards of excellence. "This is not a highly directed presentation - a finished, polished effort," says Samantha "but children playing, having fun and just showing off to their parents." There is no linked theme to the material presented but generally, it consists of things that parents hear only when a child is doing an exam.
A production of this nature offers a chance for youngsters to display their talents which are otherwise submerged. These talents need to be brought out by speech and drama work of this nature. Further the many talented kids cannot be facilitated in big plays which offer very few roles for little kids within this age group. "The kids are all starry eyed and eager because this is not exam work but something they are doing for fun. Of recent I've been helping them with the production but everything else from stage management to lighting is done by them."
This being the first workshop conducted by her, it remains an experiment, which if successful, would be carried out every eight months. The production will go on boards at the Lionel Wendt on April 2.
---
Working girls prove yourself
Are you a smart young working girl? Then it's time to aim for the stars. For Miss Working Girl - 2000, the 14th pageant organised by the Lions Club of Thimbirigasyaya of the International Association of Lions Clubs, District 306C, will be held at the Colombo Hilton on May 26.
This pageant is the annual fund-raiser of the Lions Club, which counts 25 years in social service. The main sponsor for the event is Swarnamahal Jewellers. Lion Soma Edirisinghe of the Lions Club of Thimbirigasyaya will chair the project. The media sponsors are Wijeya Group of Newspapers, Swarnavahini, ETV, E-FM and SAVANA. The show is co-sponsored by Reckitt and Coleman.
The proceeds of this year and also last year will be utilised build a Home for the Aged with all modern amenities. ThisRs. 30 million project, 'Sanhinda Elder's Home' is underway at Mirihana.
So if you are smart and intelligent all you have to do is, fill up the entry coupon, and send it along with the other requirements mentioned as soon as possible.
The Miss Working Girl pageant has the dual purpose of recognising and rewarding the talents of smart young working girls of Sri Lanka. It has all the glamour, glitter and trimmings of an international pageant with the exception of a swim-suit parade. The prime criterion for Miss Working is smartness.
There are five mini-pageants on the way to the night of the grand contest. These mini-contests, sponsored by various organizations, will select among others Miss Talent, Miss Personality and Miss Photogenic. Mr. Senaka de Silva will choreograph the show.
---
Marriage: built on trust
Anoja watched intently the young couple walking down the lane and said, "They sure have no eyes to see any others". I sighed and she asked me with her habitual curiosity what bothered me. I guess what bothered me was this idea that to be in love implies to many that one is totally bound to another. This is what leads to the jealousy and possessiveness which appears to cage the loved one. It is strange, I told Anoja, how when one is possessive even the most innocent act can be misconstrued.
I knew a young couple, the husband was just starting out on his business and he could not come home at the normal hours. Often he would get late, and his wife had to attend to most of the household work and the children's needs. At the beginning she was quite content for she too wanted her husband to succeed, but then some supposed to be concerned friend mildly hinted, "I saw Noel last evening at such and such a hotel, he was with some other people. His office assistant was there too, 'pretty thing' isn't she? asked this friend innocently. And that started Maya thinking. Was Noel telling her the truth, was he busy working or was he flirting around with some girl, and this office assistant, a girl she and Noel had often talked and laughed about suddenly took on the form of someone evil. That evening when Noel came home Maya was tense and unhappy. She could not shake the suspicions that suddenly were in her mind. Man-like Noel, clueless of her inner fears prattled on of his day and added, "Do you know Sheila, my office assistant, today she brought me some cake that she had made during the weekend." He, poor chap was not prepared for the barrage of comments and the tears as Maya wept saying that he preferred the food brought by that girl, to the food she prepared. Of course this was their first real argument and Noel comforted her. But it was not that easy when day after day Maya questioned him as to where he was and what he did. She was suspicious if he arrived home late and soon Noel felt resentful. He was in his mind working hard to provide for her and the children and give them a better life and Maya just did not seem to understand. Perhaps if Noel had reflected, he would have realised that Maya's nagging would have been because she felt threatened. Noel could have asked his office assistant to be less obvious in her regard for him, but to him Maya was just making an issue of incidents that were trivial. Yet one could not blame her too for there were many instances when so-called innocent incidents had led to more serious problems!
The arguments got more violent and hurtful words were said, till ultimately Noel decided to leave home, not because he did not love Maya but he could not stand her suspicions and constant nagging. "And so" I told Anoja another marriage is on the verge of breaking down due not only to the lack of trust and understanding but also the inability of communicating.
Marriage is like a rope, if the strands get frayed, there is danger it will break, and the strands get frayed by constant bickering and nagging. In a marriage each partner must realize that being married does not imply an ownership. One cannot cage love, it has to be free. Possessiveness creates fear, anger and finally even hatred.
I once read these lines in a book: "When a man and woman are in love they share the mistaken belief that they live in the same world. When they love one another they acknowledge that they live in different worlds but are prepared once in a way to cross the chasm between them."
---
Sunny side up
Enter our exciting new contest sponsored by Bookland and win 'Chicken Soup' inspirational books
Often in our lives there are times when we need some inspiration, a miracle that shows us that God is with us and hears our prayers. There are miracles in all our lives but sometimes the silver lining may be hidden behind a cloud.
Now we're inviting all of you out there who have been lucky enough to have had such an experience to write in and tell us about something or someone who has inspired or touched your lives in even the simplest way, giving you greater faith in God or mankind, in the hope that it could provide some much needed light in someone's life.
Entries should be between 500-650 words and addressed to:
The Sunny Side
Mirror Magazine
8, Hunupitya Cross Road
Colombo 2
E-mail: stnews@wijeya.lk
Fax: 423258 - 423922
Each fortnight a winner will be entitled to choose from the wide selection of 'Chicken Soup for the Soul' books offered by Bookland.The books are a series of real-life inspirational stories and are sure to send the darkest clouds away.
While entries can be submitted under a pen name, names and addresses will have to be enclosed so as to ensure a winner. The closing date for entries is March 27 and the winners of Coupon 2 will be announced on April 9.
Bookland, 430-32, Galle Road Colombo 3

---
Jokes
Waning Passion
A couple whose passion had waned consulted a marriage counselor. Several appointments later, after little success, the therapist suddenly swept the woman into his arms and kissed her.
"You see," the counsellor said to the husband, " this is the treatment your wife needs - Monday, Thursday and Saturday at least."
"Well," replied the husband, "I can bring her in here on Thursday and Saturday, but Monday is my poker night."
Poor Fool
"Honey," said a husband to his wife, "I invited a friend home for dinner." "What? Are you crazy? The house is a mess, I didn't go shopping, all the dishes are dirty, and I don't feel like cooking a fancy meal."
"I know all that!" the husband said. "Then why did you invite a friend for dinner?"
"Because the poor fool is thinking of getting married."
Duty-Conscious
One day, a sub-editor of a newspaper had an argument with his wife over a trivial matter. The argument ended peacefully with not much fire-works. After a short while, the wife found her husband thinking deeply with his eyes closed.
"What are you thinking so hard about?" she asked.
"Don't disturb me," said the husband.
"I am trying to think of a good headline for our argument."