Inter-School cricket scores at a glance
Ananda draw with St. Peter's at Ananda Mawatha
St.Peter's - 160 and 292/6 wkts at close. (Jehan Jayasuriya 79, Kaushal Lokuarachchi 99,Shamindra Gunasekera 26, Mahesh Perera 35, Malin Silva 28; Kasun Fernando 2 for114,Yohan Wickramage 2/36)
Ananda - 77/3 wkts cont, 246/7 wkts dec. (Yohan Wickramage 52, Eshan Abeysinghe 45, Muthumudalige Pushpakumara 80,Lakshan Fernando 16; Ishan Rathnayake 4 for 79, Crishantha Peries 2 for 83)
Zahira draw with Kingswood at Maradana
Zahira - 276 all out (Ziard Zain 55, Tuan Jaleel 24, K.Badurdeen 21, M.Imran 69, A.Shazni 46, H.Dissanayake 3 for 62, C.Senenwiratne 3 for 62) and 223 for 8 at close (M.Rilwan 39, M.Ziyard 27, T.Jaleel 28, M.Dilshad 49, K.Badurdeen 31, H.Dissanayake 3 for 91).
Kingswood - first innings 211 all out ( M.Wattegedara 65, T. Madanayake 72, C.Senewiratne 20, M.Rilwan 2 for 52, A.Zubair 6 for 32)
St. Benedict's draw with St. Anne's Kurunegala at Kotahena
St. Benedict's -307/3 decl.
St. Annes - 31/2 overnight 181 all out (Rajin Perera 41, I. Kadir 34; Shahene Perera 3/47, Jeremy Saverimutthupulle 2/25, Malka Fernando 2/25) and 132/3 at close (C.L. Ediriweera 48, W. Laknath 46; Malka Fernando 2 for11)
Trinity draw with St. Joseph's at Asgiriya Stadium
St. Joseph's - 225 for 7 (I. Daniel 37. D. Perera 78, D. Pathirana 64; K. Weeraratne 4 for 37, M. Zaman 2 for 20) and 74 for 2 at close (S. Perera 20 n.o, D. Perumal 25)
Trinity - 237 (M. Rajatatne 20, K. Weeraratne 34, R. Gamage 66, D. Rodrigo 30, M. Dissanayake 18; G. Van Sanden 6 for 87, D. Pathirana 2 for 35)
Sri Rahula and Piliyandala Central draw at Katugastota.
Piliyandala Central - 117 (S. Basnayake 20, S. Kodippili 40, T. D. Janaka 31; M. Damakage 5 for 35, A. S. Kumara 3 for 41) and 187 (C. Dharshan 39, C. Niroshan 44, S. Kodippili 36, J.D. Janaka 39 n.o; B. Gunasena 2 for 55, A.S. Kumara 2 for 38, J.B. Ekanayake 4 for 18).
Sri Rahula - 173 (A.S. Kumara 64, N. Priyadarshana 34, U. Samankumara 31, M. Danakage 17; S. Kodippili 6 for 42, T. D. Janaka 2 for 22) and 78 for 2 (A. Ilankoon 38 n.o, A.S. Kumara 19 n.o; R. Prasad 2 for 23)
Royal Panadura and Central College Panadura draw at Panadura
Royal Panadura - 172 (D. Mahes 88, M. Sajan 18; S. Kodippili 4 for 41, R. Prasanna 3 for 36) and 167 (S. Thushara 43, M. Buddhika 41, D.Mahesh 21, S. Perera 4 for 35; S. Sampath 2 for 28)
Central College Piliyandala - 177 (S. Kodippili 48, S. Perera 38 n.o, S. Basnayake 25; E. Jayantha 5 for 28. S. Kumara 2 for 16) and 61 for 3 (C. Darsha 25, R. Prasanna 23 n.o; S. Kumara 2 for 22)
St. John's College Panadura hold Vidyartha to a draw at the Police Grounds.
Vidyartha - 267 for 7 dec (H.P. Nanayakkara 132, K. Kulasekera 51 n.o, D. Weerasinghe 34; D. Kuruppu 3 for 47) and 187 for 6 (S. Nanayakkara 91, T. Liyanage 43; S. Roshan 2 for 40)
St. John's - 251 (Y.Indunil 29, D. Kuruppu 35; S.M.Perera 2 for 20, D. Weerasinghe 4 for 54)
---
Sinhalese SC take thriller
By Marlon Fernandopulle
SSC went through a few anxious moments before pulling off a thrilling 25 run win over Panadura SC in a Premier League limited over game at Maitland Place yesterday.
Batting first SSC were bowled out for 127 in 45.2 overs. Wicketkeeper batsmen Malintha Perera top scored for the home side with 33 while Roshan Wimalasena (2/27) and Amila Perera (3/23) were the chief wicket takers for the visitors.
Medium pacers Dhrshana Gamage (4/14) and Mohamed Aslam (2/36) reduced Panadura to 52 for 7 but the visitors fought back with the tailenders before finally being bowled out for 102 in the 40 th over.
SSC-127 all out(Avishka Gunawardene 28 Malintha Perera 33 Tilan Samaraweera 26 Roshan Wimalasena 2/27 Amila Perera 3/23)
Panadura SC-102 all out in 39.1 overs(Indika Amilakeerthi 20 Shanaka Perera 25 Dharshana Gamage 4/14 Mohamed Aslam 2/36 Ranil Dhammika 2/12)
NCC trounce Matara
NCC coasted to an easy nine wicket victory over Matara SC in a Premier League game at Maitland Place yesterday.
Batting first the Southerners were bundled out 147 in 40.5 overs.S M I Ramzam top scored with a quickfire 56 in only 52 balls with the aid of six boundaries.Right arm leg spinner Malinga Bandara picked up 4 for 25.
Half centuries from openers Sanjeewa Weerasinghe (56) and Pradeep Hewage (52 n.o) helped NCC to 148/1 and reach their target in the 24 th over.
Matara SC-147 all out in 40.5 overs(S. M. I. Ramzam 56, Imal Liyanage 16; Aman Samsudeen 2/25, Dilan Ramanayake 2/22, Malinga Bandara 4/25)
NCC- 148/1 in 23.2 overs (Sanjeewa Weerasinghe 56, Pradeep Hewage 52 n.o, Nuwan Kalpage 24 n.o)
CCC register 5 wicket win
Half centuries from Lanka de Silva and Micheal Van Dort helped CCC beat BRC by five wickets in a Premier League limited over game at Havelock Park yesterday.
BRC hit up 181 in 49.4 overs with Malintha Warnapura top scoring with 35.In reply CCC found no terrors in the home side attack as they reached the target for the loss of five wikets in the 43rd over. Opener Van Dort set the pace with a stylish 51 which was followed by a another good knock from the former Sri Lanka wicket keeper Lanka de Silva. De Silva struck seven boundaries for his unbeaten 63 which saw CCC emerge easy winners.
BRC- 181 in 49.4 overs(Malintha Warnapura 35 Wendell Labrooy 25 Hemantha Boteju 2/37 Romesh Fernando 2/34 Chamikara Mudalige 3/28)
CCC- 185 for 5 in 42.1 overs(Micheal Vandort 51 Damitha Hunukkumbura 32 Lanka de Silva 63 n o Bathiya Perera 14 Sajeewa Weerakoon 2/25)
---
ProKarting off to a flying start
ProKarting in Sri Lanka got off to a flying start with Colombo proKarts staging their first corporate event for the Airlines.
Sponsored by Sri Lankan Airlines 30 top drivers raced towards the laurel amidst a carnival atmosphere with the official radio station E 100.4 airing live updates of racing on the Caltex ProKart track.
Colombo ProKarts organisers of these pulsating events have reserved Saturday mornings for corporate races where employers and employees get an opportunity of fellowship with the peeps of each segment of business.
Sri Lankan Airlines emerged overall winners with three drivers securing first and fourth place, with Emirates running second with first and second runners up positions.
Saman Ratnayake won the first place followed by Sharnil Rupasinghe, Nimesh Wedasinghe and Riza Yusoof. Organisers were surprised at the excellent standard of racing and welcomed the fact that the ladies proved to be spirited and daring.
E 100.4 organized the inaugural race recently where top pro Karters excelled. Ameen Deane won the event followed by Mikhail Selvanayagam and Randy Batcho.
Phase 2 of the project will see electronic timing, lap display and the latest technology used for individual driver timing as well as a fibre coated surface.
March 18 will see a scintillating event when the official radio station E 100.4 conducts a premier race on the Caltex Track.
---
Rover pinpoints…
Three cricketers fined?
Who are the three cricketers who were fined in Pakistan by the Manager? Rover learns they were fined for coming late for practices.
Why away?
How come the annual general meeting of the Matale District Cricket Association was held in Kandy instead of Matale? Were they under pressure to hold the AGM, in Kandy? Only time will tell.
Told not to contest?
Rover learns that a contestant for the post of President of the Ratnapura District Cricket Association was told by someone higher-up with a political clout to withdraw. Rover also learns that a cell phone from another contestant was used to convey this message.
No right?
A contestant to the higher post of a popular sport, who is a paid employee of the Sports Minister, who is also a paid coach, has declared himself to run for election. The question is whether he is qualified to do so.
Big Match fever
An opening batsman of a leading school in Colombo and his parents have been threatened over the phone with death, if he does not make way for the other opener. This has been brought to the notice with the school authorities.
The big match fever is on.
Is this Basketball promotion?
Gampaha district BA are the undisputed, undefeated and unofficial champions in basketball tournaments. Gampaha was promised a place to play at the on-going Senior Nationals by a vice president of the SLBF. But they have been refused participation for unknown reasons.
This vice president has compelled the boys from Gampaha to play for Polonnaruwa where basketball is not played. This is to permit Polonnaruwa to attend and vote at the forthcoming AGM of the SLBF.
The same official has even compelled boys from Kotahena to play for Hambantota. This too is to get this association to attend and vote at the AGM.
Believe it or not the S.L school players at the current nationals were over 20 years of age. This was the order made by the same vice president. A student's last age at school is 18 years. Over to you Minister of Education?.
Why was the President of the Sri Lanka Basketball Referees Association not permitted to referee at the current Senior Nationals? He is the most senior FIBA referee.
SLBF - AGM
Rover reliably understands that the AGM of the SLBF fixed for March 26 is to be held early without notice to the associations. This is the advice given to the vice president of the SLBF by the present office bearer of the SLBF attached to the Ministry of Sports. The reason given is that there may be a change in the Ministerial portfolio. The vice president has even got the list of the representatives without the date on the form. Who nominated whom is the unanswered question among the Basketball lovers and the associations not invited for the AGM even though they are eligible to attend and vote. No accounts have been circulated even after large sums of money had been received for sponsorship of tournaments. Why? And have the accounts been audited?
---
Volvo sponsored golf at Ridgeways
Chandra Senanayake, the genial Chief Executive of Swedish Trading Company jealously guards the franchise for Volvo, the pride of Sweden and with a stroke of extravagance he just recently volunteered to sponsor the February medal round at the Ridgeways of the Royal Colombo Golf Club. Typical of Senanayake the sponsorship was out of the ordinary.
Ridgeways chopped
Donald Steel has taken over the Ridgeways and his plans are to re-design, cut, chop, change contours, elevate greens and make the course more competitive so when it's all over the promise is that the Ridgeways will be comparable with the best in this part of the world and acceptable to the governing bodies handling the Asian Amateur and Professional circuits. The plans are to spend millions to improve the course but there is no evidence of any plans to improve the standard of golf in the country. Our 3 top notchers are languishing. Play is now restricted to 15 holes. The 15th, 16th & 17th have been chopped off for restoration so one has to shift to the 18th after the completion of the 14th.
Amerasinghe wins
In the 'A' Division Chula Amerasinghe, a strikingly good player who has shown much improved style in recent months went straight through to effortlessly win the classic beating Jehan de Saram.
Chanmugam shines
Neil Chanmugam has been off the competitive field for a little time and it was refreshing to see that he has not lost his touch for long hitting and soft coaxing of putts. He had a smashing round to win the 'B' Division medal from Kumar Boralessa who completed a splendid round and lost the crown through one stroke of utter carelessness.
Dias beats Perera
Sumal Perera had every access to the 'C' Division title but sheer recklessness caused a slip and he missed the trip at the award ceremony. Padmasiri Dias is steady, talks to his ball and guides it softly and always remains in contention. He had one big hiccup but recovered adequately to beat Sumal and take the 'C' Medal and sign stacks of chits at the 19th.
Seniors
R. G. Manuelpillai came back to the scene after a long lay off. He went ding-dong with Siri de Silva for almost half the way when De Silva's game changed to move from fairways to roughways and ponds. He took far too many strokes to recover and meantime Manuelpillai took the frontline and stayed there to win the Seniors event.
Long driver
Hefty Nigel Coomaraswamy smashed an absolute crackerjack shot off the 8th tee to carry yards and yards and settled 232 yds from the tee. An excellent award winning performance for the longest drive.
Upali holes out
Upali Wickramasinghe has a flare for unpredictable strokes. He can with consummate ease hit the ponds and he can also with the same degree of ease stray into out of bounds territory - all this very occasionally on his very special day. Last Saturday was unique because his ball was responding with discipline and he was on the way to a resounding record score and then the unavoidable filtered and he lost strokes but eventually blessed with the grandest shot for the day when his ball obliged and moved as it touched the 9th green and snaked its way to hit the pin and drop into the cup.
There was almost a war dance by Wickramaratne as he jumped with glee to punch the air and lose a ring from the third finger of his right hand. Upali now joins the prestigious 'Hole in One Club'. At the conclusion of his round as custom has it a spread of beverages had to go the round with compliments from Wickramaratne and the elastic afternoon came to a close with Upali making a complaint that he was developing a writer's cramp off signing chits. The observation was totally ignored.
---
Palitha Perera felicitated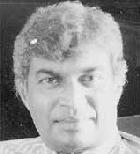 Veteran mediaman Palitha Perera has been felicitated by the Students' Media Association of the Colombo University at a function held at the Arts Gallery recently.
The honour was conferred on him by the Vice Chancellor of the Campus, Professor S. Scharenguivel taking into consideration many factors. Born in the hustle and bustle of the metropolis Palitha moved into the media world in the 60's. Since then for four decades he has journeyed through bitter sorrows, and happy times as a mediaman, newscaster and feature producer.
At times he also delves into cricket commentaries.
A rebel in the Radio & TV media he has always attempted to show a glimpse of his talents to all and sundry. He stood tall besides thick and thin and hence deserves this honour.