A novel project provides a home for the streetchildren of Pettah
Shelter and solace
By Kumudini Hettiarachchi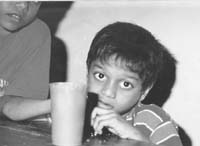 People behind the project believe it is unique. The target group is the same as in many programmes undertaken by numerous non-governmental organizations. But the approach is different. Once again the focus is on streetchildren, and this is the only time that research has come off the shelves, without gathering dust.
It has borne fruit — a centre has been set up for streetchildren, where they are clothed, fed, sent to school and given shelter.
The place they can call home, may be Spartan, but with comfortable beds and three square meals a day. Most importantly they have sympathetic ears to which they can whisper their woes. Set in the heart of bustling Pettah, amidst the dust, muck and flies is the Sanhinda Children's Home.
"In the '80s well-known sociologist, Professor Nandasena Ratnapala lived like a beggar among the beggars on the pavements to get a realistic picture of their 'lifestyle'. He found there were many streetchildren. From that came the dream of setting up a centre for them," Manager Piyal Weerasinghe said.
According to him this type of project was the only one in South Asia, where research, without just being filed, had resulted in solid practical work.
"Prof. Ratnapala was moved by the pressure faced by these children and asked the university students and lecturers to help out," he said.
Explains the Joint Secretary of the Home, P. Sivakumaran, "It was inaugurated in 1995 as a project by the Sociology and Anthropology Department of the Sri Jayawardanapura University under Prof. Ratnapala's guidance. He was assisted by university lecturers and students. The home has children who come from different and difficult family backgrounds and they require not only the basic needs of food, clothing and education but also love, care and counselling."
This haven for streetchildren, turned out of a part of the Markfed-Cooperative complex was started with just three. The help of the Western Provincial Council and the Social Service Ministry was sought and given unstintingly. Run by volunteers who go out onto the street and persuade parents, mainly drug pushers and commercial sex workers, that this is a better life for their kids, with lessons included, the numbers have swelled to 27, all between five and 15.
Piyal does not do full-time work at the centre due to his heavy workload, but "can't let go as well". The work at the centre has been arduous but fulfilling.
"We have to teach the children the basic stuff, even simple things like how to use a toilet. We sit with them and eat, to show them table manners. We even have to remind them that fingers have to be washed before and after meals. We keep track — whether they do these things properly and at the right time," he says.
That was just the first step. The second was education. "Akuru hekiyawa" (Ability to learn numbers and figures). The volunteers held reading and writing classes, while making efforts to gain school admission for these children. They faced two problems — the lack of birth certificates and the initial inability of the children to fit in with the others. Their practical knowledge was also less. At the beginning some children left the centre, maybe resenting the disciplining. Piyal said they adapted some of their programmes and for about one year now there have been no "leavers". Parents visit them on Sunday and on special days the children are sent to the streets, as an experiment. So far all of them have returned to the warmth of the home, without any hesitation. The volunteers have also been able to get birth certificates for them.
Cricket matches have been organised with schools in the area, to "mix" the two groups so that teachers and other children don't treat them unkindly. Of the 27 children, 25 are attending school now. One youth is undergoing a welding course, so that he would be able to secure employment. Better behavioural patterns are also being inculcated in them.
The children cook their own meals under the supervision of an adult. The traders in the Pettah help out by giving provisions. But Piyal feels a better building is needed for the children.
"We need to change the attitude of society, awaken their feelings to the needs of these children.
They are on the streets for no fault of their own. But if we don't put them on the correct path, they will end up in the underworld," he said.
Explaining the reasons for families findng themselves on the streets he says:
"Families split up due to economic problems, basically ending up with no money. Then they are forced to take to the streets. When young women are molested and subsequently thrown out of their homes, they have to earn a living and resort to selling their bodies. Other women leave their homes with the hope of securing jobs and are left destitute. The fourth group would be refugees without home or hearth. All these groups get drawn to the towns because they believe that is where the money is and Colombo is seen as the ultimate paradise."
Dinesh Sanjeewa (15) enjoys going to school and wants to be a doctor. He had been in hospital and seen the dedicated doctors. He's from Chilaw and had run away from home after his mother went to the Middle East and his father took another woman. He used to be loitering around Mihindu Mawatha, and has been in the home for one year and one month.
He holds a tape his mother has sent assuring him that she loves him very much and telling him to be a "good boy". Tears well up in his eyes as he listens to the tape. He misses his mother, but he's not too unhappy because the "thaththas" at Sanhinda are both mother and father to him.
As the children cluster round the TV, watching and loudly cheering the Sri Lankan cricket team, Mr. Sivakumaran says, "The schoolgoing ones have gained prominent positions in their classes, competing with children from normal families. In sports too they have succeeded." We bid goodbye to them and leave with the feeling that no more are they children of a lesser god.

---
"The police chase us away"
A brisk walk to the Pettah from Fort in the sweltering heat, ducking from the awnings of side stalls and weaving through the endless stream of pedestrians. At last we are on Maliban Street, peeking here and looking there.
Our escort, H.A. Lakshman from the Young Men's Christian Association (YMCA) spots a youth sleeping on a handcart. As we walk up, a pup curled up near him, stretches and barks and the youth looks up bleary-eyed. Lakshman mumbles something and the youth mutters, "Deck piece ballanda gihilla". (They've gone to see deck pieces — later only we realise that it means videos)
Lakshman smiles apologetically and promises to get them to the YMCA on another day. The next time we visit, they are in the YMCA's sports hall, ragged waifs enjoying the simple pleasures of childhood — bouncing high on a trampoline, running round and round the hall, trying to stop a quarrel between two shrieking pigeons, who have nested between the wall and the roof. Simple pleasures they don't have time for. They are the streetchildren who roam Pettah looking for work to keep hunger away.
They are reluctant to face the camera or say their names. "Policiyeng apiva elavanava." (The police chase us away) Is that the answer? I wonder. When your mother and father can hardly keep body and soul together, it is well nigh impossible to look after children. So they have learnt to fend for themselves.
Many of their fathers are "Natamies" (labourers) who earn a few rupees lugging heavy gunnies or packages on their shoulders. The mothers either sell "bulath" (betel) or work near an agency. We are later brought into the picture by the YMCA staff, the Streechildren's Project Co-ordinator Lakshman and Project Secretary Sunil de Silva — the mothers are streetwalkers.
There were eight "yaluvo" (friends) that day. They have formed a close-knit group which goes about the streets looking for work like selling coconuts, fruit or vegetables, pushing handcarts or shouting out the prices of "wares" such as clothes or even lottery tickets. If they are able to earn something they buy something to eat, if not they scrounge for food. They've found a new pastime — they pay between Rs. 15 and 20 and watch videos at small stalls near the Kochchikade church. Dracula, karate and Hindi films are their favourites. I wonder to myself about blue movies.
They have only tattered and dirty clothes on their backs, no place to lay their heads and no place to play. They used to sleep in street corners, through rain and sunshine, but now "retire to the landu kele" in the night. They were reluctant to show us the place for fear of being chased away by the police. They keep together to escape "athavara" (pressure) from men, for they are easy prey if they are alone.
The attraction to the YMCA is because there awaits a good meal, a bath and time for them to be children once again. The YMCA's streetchildren project had started as a "needs assessment programme" funded by the International Labour Organisation.
The report is being prepared. The exact number of streetchildren is difficult to estimate. "They are here today and there tomorrow," says Sunil.
What about school? There's no time for lessons. But they do attend some classes run by a church organisation called Suba Sevena whenever they can.
Regulations are in place in this country. We have ratified the Children's Charter and also the Convention on the Rights of the Child. We say children below a certain age should not work, they should go to school. But do these things on paper, fill up their bellies when hunger strikes? Are we being realistic about the situation out there? How can you persuade a child who has only one pair of shorts and a dirty shirt to go to school, facing the ridicule of the other children?
How can you ask a child whose parents are involved in "this and that" and who doesn't have a permanent home to face the cruel barbs of other children in class?
M.S. (who doesn't want his name in the papers) is 15. He does not know where his father is. His mother is a betel-seller and his two sisters are being looked after by the nuns in a convent. His mother has been on the road for as long as he can remember. Some days he earns Rs. 100, other days nothing.
A lean and undernourished seven-year-old chips in that he pushes carts. He loves to study and enjoys the non-formal classes held by Suba Sevena. He's very proud that he has also learnt to save, by putting coins in a till provided by the same organisation.
The answer to the streetchildren issue lies in vocational training, says Lakshman. Children working on the streets is the harsh reality of today. Carpentry, masonry, mechanics, sewing whatever is relevant to the area in which these children roam. Sunil adds, "It's not good, but it happens. We should provide vocational training for them, then at least they will have a skill and be able to take up lucrative employment."