It's a long, hard wait
By Hiranthi Fernando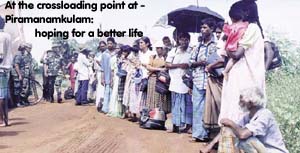 Little Rajeevan, 4, is seated on his great-grandfather's lap while his mother Kannakiamma chats with neighbours. Home to this family from Kilinochchi is a 10-foot temporary shelter at the Nelukkulama Kalaimagal refugee camp in Vavuniya. Kannakiamma, her husband, their four children and her grandfather Muttiah all share this tiny space.
"We came from Kilinochchi in 1996," Kannakiamma said. They had fled their home during Operation Sathjaya, carrying four small children. The children are now 10, 7, 6 and 4 years. "We came with nothing, leaving our home and all our belongings behind because it was impossible to live there with small children, in the midst of the fighting. There was shelling and shooting all the time with the Army and the LTTE fighting each other." Kannakiamma's parents, who also left Kilinochchi, were accommodated at the Sithamparam Refugee Camp.
Kannakiamma's husband goes out every morning looking for casual work which earns him about Rs.100 a day. However, with so many refugee families in Vavuniya, work is hard to find. The three elder children attend school nearby, while the youngest Rajeevan goes to a nursery in the camp. The family receives an allowance for foodstuffs twice a month and cooks their own meals. Life is not easy for them but they have little choice.
Kanakiamma's family is among some 1138 people, including 371 children who live at the Nelukkulama Kalaimagal refugee camp. Apart from Nelukkulama, Vavuniya has a transit camp, Sanasa, and four other refugee camps at Poonthoddam, Veppankulam, Sithamparapuram and Adappankulam. Latest statistics give the number of displaced families in Vavuniya as 5,921 (around 22,235 persons). These families from Jaffna, Kilinochchi, Mulaitivu, Mannar as well as Vavuniya receive a food allowance from the State every 15 days depending on the number of people in a family, but the distribution is a cause for concern.
"We do not receive the money regularly so life is difficult," lamented T. Pavani, another young mother at the Nelukkulama camp. Pavani was putting her seven- month-old son to sleep in a makeshift cloth cradle suspended from the roof with a rope. Her six-year-old daughter was at school, while her husband had gone out to look for work.
Eighty-one-year-old Raman, also from Kilinochchi who lives with his son, daughter-in-law and their four children said their fortnightly allowance of Rs.1045 was insufficient. They've been at the camp for a year and three months. "We'd like to go back home if it is safe," he said.
K. Murugesu who came to the camp an year ago from Kilinochchi said they were forced to leave because of the bombing. "We could not cultivate our fields and food was difficult," he said. "There are Grama Sevakas at Kilinochchi but they are under the control of the Tigers."
More and more families from the uncleared areas are flocking to the cross loading point at Piramanam-kulam on the Madhu Road. This point has been arranged with the assistance of the International Committee of the Red Cross (ICRC) for the movement of food to the uncleared areas and permitted civilian crossings on prearranged days. " In addition, about 50 to 100 people seek entry daily without permits from the LTTE," said Brig. K. Piyasoma, Chief Civil Affairs Co-ordinator for the Wanni. Those who want to leave the uncleared areas are checked and taken in any day of the week. During December, 315 people sought refuge at Piramanamkulam while for February the count up to the 23rd, was 1615. These refugees have to make their way secretly, unseen by the LTTE, and present themselves to the ICRC officers escorting the food lorries from the uncleared areas. The LTTE only permits one member of a family to leave the area. "They are kept there as a human shield," Brig. Piyasoma said.
Elderly Sunderampillai was seated on the ground, at the head of the queue, having travelled through the night. He was one of the more fortunate since he had a son in Vavuniya whom he could live with. Nesumani and Kalidas were with their two small children. They had no place to go but hoped to find a better life for their children in the Army controlled area.
The refugees say they cannot stay in their homes for fear of LTTE conscription. They are also unable to cultivate their fields due to the war. Soaring food prices make life difficult. A kilo of rice costs Rs.40 but at the co-operatives, the rice is rationed. A kilo of sugar costs Rs.80. Moreover much of the food that is being sent by the Commissioner General of Essential Services seems to be reaching the LTTE and not the civilians.
Refugees from the uncleared areas are first taken to Vavuniya to be registered and initially accommodated at the Sanasa Transit Camp. The Government Agent (GA) then decides to which refugee camp they should be sent. "We have a problem of overcrowding at the camps," said Ms. V. Ketheesvaran, Project Director for the Refugee Camps at the Vavuniya Kachcheri. Sanasa Camp which can accommodate 700 now has 1400 people. Temporary shelters have been constructed to take in the excess. "We have to find another piece of land and build more shelters," she said. Security Forces clearance has also to be obtained.
Toilet facilities, a common grouse among refugees are being improved according to Ms. Ketheesvaran. At Nelukkulama, 52 blocks of toilets with 520 toilets have been constructed. Water is supplied by bowsers. These camps, she said, were constructed on a temporary basis and have now been maintained for four to five years. Particulars are being collected from the refugees as to whether they are willing to be relocated. Government policy, however allows only resettlement of people from the Vavuniya district. Those from other areas cannot be resettled in Vavuniya.
"In resettling refugees, we have to look at the security situation as well," Brig. Sunil Tennekoon said. Discussions have been held between the Army, GA, UNHCR, and NGOs about the future of the Vavuniya refugees. While resettling them as quickly as possible is a priority, vocational training and self-employment are also being worked out.