Never-ending love story with travel
Down memory Lane
By Roshan Peiris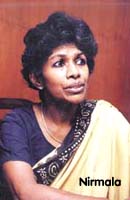 Petite and delicate, Thusali Nirmala de Mel nevertheless holds a king-sized job as managing director of Quickshaws Limited and Quickshaws Tours Limited.
She has had an impressive professional career being the Chairperson previously of the Women's Chamber of Commerce, Colombo and Vice - President of the Travel Agents' Association of Sri Lanka.
"I love to travel," she says as she reminisces about her journeys in Sri Lanka, North America, Britain, Europe, Australia and South-East Asia.
Her childhood memories, are of sitting perched on a jam fruit, jambu or veralu tree munching the fruit.
Her father Vere de Mel, a government servant was transferred to many areas including Vavuniya, Mannar and Kurunegala and young Nirmala developed a love for travel early in life.
"My maternal grandparents lived in Ratnapura, and I recall vividly, spending holidays with them, usually travelling to see the ruined cities."
She studied at Ladies' College where students in her class were considered naughty but clever.
"I was often sent out of class for teasing the teacher, making faces or eating condensed milk in class. But I somehow managed to come within the first five."
When Nirmala was 13, her father retired and launched Quickshaws as he felt the need for a "respectable taxi service. He also had to support his wife and child," she said.
"I was the only child but I was never spoilt. When I was 13, I often helped out at the traffic desk at Quickshaws.
"I can still recall how my father used to wear a turban and drive a taxi, when no drivers were available.
"We used to have a lot of fun teasing him, when an American lady-whom he had driven-wrote to the Managing Director (himself), complimenting the driver on being well mannered and speaking better English than the US President."
From Ladies' College, Nirmala went to Girton College, Cambridge. "I had a lovely time living in my own digs," she recalls. She offered Social Anthropology and Archaeology for her degree.
"I found everyone much brighter than myself but I made a lot of friends there, and they still remain close."
"I remember taking part in plays such as 'The Importance of Being Earnest'. I am thrilled to think that Richard Cottrell and Trevor Nunn who directed us then are today both leading producers."
She also spoke of her Anthropology supervisor Edmund Leach - who did his research work in Sri Lanka.
After Nirmala's Cambridge stint she worked at Lexington International, a subsidiary of J. Walter Thompson, in industrial, consumer, and charity accounts.
Later she garnered experience as an active partner in Quinquereme, London selling handcrafted fabrics, pottery and art prints.
"This improved my business knowledge, since it involved purchasing and marketing to Harrods, Liberty of London and promoting products in the national dailies and periodicals in the UK. I enjoyed the hard work. My parents thankfully never pressurised me in any way, even to get married. It was an assortment of uncles and aunts who brought marriage proposals.
"I practise what I preach. Since I am a volunteer promotion planner for the Family Planning Association of Colombo, I never got married!," she says with a smile.
After London, Nirmala left for the States and lived there from 1969 to 1972. There she had a boyfriend studying for his Masters in Business Administration at Harvard.
She remembers his 500CC Kawasaki motorbike. "Going with him on the motor-bike gave me great pleasure, and I became the envy of other girls. Finally when we broke up, my friends said that I was more sorry to lose the bike than him!"
In the States Nirmala worked as a Public Relations Officer at the Parker House Hotel which had 800 rooms.
It was the oldest hotel in Boston and one steeped in nostalgia. It was from here that Ted Kennedy made his first speech to enter the Senate. In earlier years, Ho Chi Minh she was told, had worked in the kitchens there and Charles Dickens when on lecture tour had stayed there.
Despite her busy schedule today as Managing Director of Quickshaws, Nirmala still finds time to go camping with friends and says she feels rewarded and fulfilled in her daily life.