'She's a mini Rom'
By Ruhanie Perera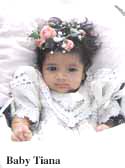 She wants to be the type of mum her child can look up to and feel free to talk to. She wants to be firm with her child, but she also wants to be her friend. Looks like the one-time Miss Sri Lanka - Nushara Atapattu aspires to be the "model" mother.
Tiana Christin Atapattu created quite a bit of excitement in her parents' lives, when she popped into the world on November 18, 1999. When she saw the baby, Nushara's first thought was "Oh my goodness! She's a mini Rom!"
"I couldn't believe I was looking into a tinier version of her father's face."
Almost two years after Nushara Fernando and Romesh Atapattu got married, the 'stork' decided put in an appearance. "It's all part of God's plan for us and we are really glad to be the ones chosen to be part of it since we always wanted kids," says Nushara. "But when it does happen you are pleasantly surprised."
"Pleasantly surprised" seemed an understatement as Nushara even three months later, looked thrilled and from what she said her husband clearly shared her delight in the baby.
Romesh, according to Nushara, has happily and willingly thrown himself into the role of father.
"He takes it very seriously," laughs Nushara who feels that fatherhood has opened up a whole new side to her husband's personality. "He really is an exceptional father."
After Tiana was born it was team work all the way since Nushara didn't have anyone to help her. The late nights were tiring but with her husband by her side, she has coped. "When it's your own child you would do anything for her."
Recently when she took her baby for the triple vaccine it had been distressing to see her baby in pain. "You feel so much for your baby and you sense what she's feeling all the time." So far Nushara has figured out the "sleepy cry", the "hungry cry", the "pick-me-up cry" and she's learning more each day, she says.
Nushara admits that she is finally beginning to understand every parent's favourite phrase - 'you will never understand unless you are a parent'.
She now sees things from her own parents' point of view. "I would like to give my child everything my parents gave me. I feel lucky and blessed to have had parents who supported me and I want my child to feel the same."
"I'll take it one day at a time with Tiana," says Nushara who has learned that nothing in life can be planned down to a 'T'. She'd like to be the kind of mother who guides, not controls. "What my daughter wants to do with her life is not for me to decide." Though if she does want to follow in her mother's footsteps, Nushara would love to teach her - "I think it's far too early to think about all that though. She's just a baby."
As we walked into the baby's room, Tiana opened her eyes and looked up at her mother as if sensing her presence. The little nursery filled with soft toys, baby things and the "nappy station" where Nushara and Romesh battle at night had a distinct air of security. As Nushara picked up Tiana to cuddle her, whispering the secret language that only mothers and babies share, I was the favoured recipient of one of those perfect 'Hallmark' moments.

---
Help
Help I
Sergeant Major W.M. Jayasekara attached to the Sinha Regiment is suffering from renal failure and is in urgent need of a kidney transplant (Blood Group AB Positive). Potential donors could please contact Mrs. Jayasekara, No. 16, Anura Sevana, Seetha Eliya, Nuwara Eliya or the Corresponding Officer, Sri Lanka Army Medical Corps, Army Hospital, Colombo 3.
Help II
Nineteen-year-old Ruwan Prasad Weerasinghe is suffering from heart disease and requires urgent surgery costing Rs. 550,000.His parents appeal for help from generous donors, as they are unable to meet the cost.Donations could be sent to Account No: 37905 of Ruwan Prasad at the National Savings Bank, Kadawatha.