UN role model in Colombo
By Passanna Gunasekera
Have you ever dreamt of chairing a conference of the United Nations? Has Kofi Annan's status made you fantasize about yourself in that position some years from now? These dreams and fantasies are no longer guiding visions but may be quite within our reach.
Model United Nations is a solely student-run simulation of the United Nations, where student delegates representing various UN member nations will address specific issues of current interest. Such regional and international matters are resolved in accordance with their nation's interests. They embrace the spirit of the UN Charter with the majority of the participants adopting the role of delegates to the UN.
Sandra Fernando, a teacher at the Overseas School of Colombo, introduced the Colombo Model United Nations (CO-MUN) to Sri Lanka in 1994. Motivated by a trip to The Hague International MUN in the Netherlands, when back home she opened the gateway for local students to participate in a similar conference.
What do students gain from participating in the MUN? These conferences become an ideal ground for students to role-play diplomats involved in decision-making and conflict resolution at the UN. Furthermore, they are given an opportunity to familiarize themselves with the UN system, parliament procedure, conducting meetings and the current economic, social and environmental issues.
In order to resolve these issues through negotiations and compromise the required skills of independent research, oratory, resolution writing and collaboration are developed.
Although, CO-MUN is held annually during the first weekend in March, the training workshops commence in January. During this period, students are enlightened about the functions of the UN, while research pertinent to the assigned countries and governments is carried out. Starting with just four schools in the year 2000, it has now branched out to outstation schools. One witnesses a significant rise in the number of participating schools. Secondary school students (between 13 & 19) assisted and accompanied by a teacher advisor can participate in this conference.
Colombo Model United Nations (CO-MUN) 2000 is to be held on March 3 and 4 at the Overseas School of Colombo and March 5 at the BMICH. The UN Resident Representative and representatives of diplomatic missions will also be present. SriLankan Airlines has volunteered to sponsor this event where two hundred student delegates will represent seventy-five nations.
---
Straight, curly or coloured: what's 'in'?
" Today people are too busy to bother with elaborate hairstyles. That's when natural hair texture, with a great haircut and colouring can do wonders."
By Laila Nasry
"What are the latest trends?" I ask bravely knowing jolly well I am nowhere close when it comes to being "in" with hair. Here I am sitting in the lobby of Mount Lavinia Hotel, my hair in a dowdy plait, chatting to a hair designer and consultant who has even done American First Lady Hillary Clinton's hair- 'ouch' is not the word!!! "Natural texture, movement and colour," she replies, smiling. Hey, my hair ain't so bad after all. Maybe it is not in a posh get-up but it is not in need of perming,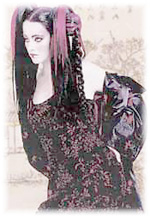 straightening or any other drastic change- I like her.
Teri Dougherty is an internationally acclaimed hair designer and a specialist consultant for "WELLA"-Germany. From her young days this is what she always wanted to be. "I used to brush, comb and braid my mother's hair daily every night. Later I went to college and got a degree in hair designing."
Teri has 20 years experience in this field of work and has left her mark in the highest of places in the fashion industry. Having worked with celebrities and catwalk models alike, she has done stage and catwalk designing for big names like Richard Tyler, Oscar de la Renta, Badgley and Mishka. Her extensive editorial work can be seen in magazines such as Elle, Vogue, Cosmopolitan, B, Mademoiselle, W, Top Hair, Modern Salon, American Salon, Salon News and Passion. In addition she has received many awards for best show and design for her talk shows on TV and radio.
Teri is currently the Artistic Director of the Maiden Lane Salon and Spa in San Fransisco. During the weekends she travels around the States giving seminars and talks to other young hairdressers. "I educate stylists on new hair techniques, fashion trends and show them ways of increasing their income levels and improving their business practice." Presently she is ranked among the top 75 educators of the century by OModern Salon MagazineO and was recently named among the top 99 professionals in the city.
In Sri Lanka for the first time, Teri on a promotional tour for WELLA, conducted a seminar and workshop on hair cutting, colouring, long hair dressing, bridal styles and more.
Teri believes in "beauty with ease" which is her slogan. " Today people are too busy to bother with elaborate hair- styles. That's when natural hair texture, with a great haircut and colouring can do wonders." She hopes to share with the local stylists different tools that would help achieve natural,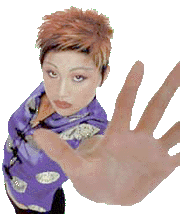 easy to maintain hair designs.
"Straight is boring," she says with conviction. "Besides you have to be absolutely beautiful to have dead straight hair." According to Teri, curls seem to be taking over on the international catwalks. Whatever it is, looking natural is the key. For a good haircut it is vital that lifestyle, texture of the hair and body shape of the person is taken into consideration.
She elaborates explaining that if the person who walked in was wearing a racy looking red jacket, then definitely she would give her a very sharp hair cut. "But if someone walks-in in a long, flowing outfit, then it would be something soft and pretty."
I met Teri seven hours after she landed in Sri Lanka. Though she hadn't had a lot of time to check out the hair designs of us Lankans, the fact that many wear their hair long had not slipped her notice. "Long hair is not boring, so long as it is kept well with a good cut and the ends staying pretty. If not forget about long hair."
For those in the tropics who have the tendency towards a more olive complexion she recommends streaking with reds, burgundy and browns. "Colouring can accentuate and bring out the best in a hair cut." Blond would be "defying the law of nature" as it is a total contrast to dark hair and the colour cannot be changed without damaging the hair. "Dark hair is really beautiful, the colour should not be changed, it should be just enhanced," she says.
Hair needs more care when streaked, she advises. "A good shampoo and conditioner is vital, and constant blowdrying can be damaging." For that matter not only when streaked but normal hair too needs good nurturing. Once again a good shampoo (just for the scalp and rinsed) and conditioner (pulled through the hair from shaft to ends) would do wonders. Blowdrying should be limited to three times a week maximum in the best interest of one's hair and should be done after the application of a mousse or gel.
What about the henna treatment and oil treatments that have been the practice of all those who hope to have a lustrous head of hair?. "Henna is a very difficult product on the hair and prolonged use can make the hair flat," Teri explains. Oil on the other she says does not serve a purpose as it sits on the outside and does not get absorbed into the scalp. Washing it off is not only tedious but takes repeated shampooing which can cause more damage to the hair. A chemically designed conditioner to nurse the hair is what she recommends.
"It's hard work to get to the top," she says and giggles when I ask her how it feels. "I have been inspired by all those I have been teaching. I'm always learning, and before I leave this place, there would be something new for me to learn. I have many more ladders to climb."