Contents
---
Shanghai Award for Nilantha
Sri Lanka's Nilantha Peiris has won the 'New Singer Award' in the finals of 'Shanghai Asia Music Festival '99' which was approved by the Ministry of Culture of People's Republic of China, which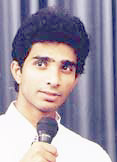 was held on November 28, 1999 in Shanghai.
Fourteen countries participated in this event namely; China, Philippines, Hongkong, Japan, Sri Lanka, Kasakstan, Mongolia, South Korea, Indonesia, Vietnam, Malaysia, Maca (China), Cambodia and Singapore. Altogether there were 25 contestants and 10 judges from China, Taiwan, Philippines, Japan, Singapore, Hongkone etc.
The contestant that represented Sri Lanka was H.L. Prabath Nilantha Peiris appointed by the Sri Lankan Broadcasting Corporation. He was accompanied by the Tamil Service Director, Mrs. Arunthathi Sri Ranganathan. This was the first time Sri Lanka had been invited to this festival. Fortunately enough for Sri Lanka, Prabath mangaged to get awarded with the New Singer Award in the Shanghai Asia Music Festival '99. This is a great honour for Sri Lankans as this shows that Sri Lanka is reaching international standards in the Western Music Scenery.
21 year old Prabath however is determined to gain world recognition in the Pop Music World. He will be very soon releasing his album early next year. Prabath is greatly gifted in both Western and Oriental Music and he has previously released an album in Malawi, a country in Central Africa in which he gained considerable popularity and brought him forward into the music world. His music career had started at an early age of eight and now he is a rising singer in the music field.
The song which won the award for Sri Lanka was written by Harold Fernando and composed by Prabath Peiris himself. The music was also arranged and played solely by Prabath. It is an original English pop song with a blend of Western and Oriental touch. The song when first played at SLBC gained popularity by becoming number one in the charts and it has struck the minds of its listeners ever since bringing a new name into the Sri Lankan pop scene.
He is currently employed at Swiss Lloyd Ltd at the World Trade Centre as a Management Trainee. Music appeals to him as a part time hobby and his ambition is to become a Chartered Accountant.
He has also recorded five Sinhalese songs which are currently been played at Lakhanda and Sawana Radio.
His song 'I Don't Want Nobody Baby' became number one in the Sri Lanka hit parade run by the English service of the SLBC.
---

Pioneers East bound
Dance band Raj & the Pioneers left Sri Lanka on a months tour of Malaysia, Hong Kong and India.
They were in Hyderabad, India, last week performing at the Millennium celebrations there. From India the band will move to Malaysia for two week gig in Kuala Lampur and afterwards to Hong Kong for a couple of performances.
"Raj & the Pioneers" comprises Raj Dissanayake (Leader/Drums), Nihal Weerakkody (Lead /Vocals), Sharky Sylvester (Guitar /Vocals), Rex Fernando (Bass/ Vocals), Samantha Fernando (Keyboard/Vocals), Dilhan Visidagama (Octapad /Vocals) and Kushani Sandarekha Perera (Vocals).
---

The dance troupe of the millennium
The dance troupe "Three Rukies" is a combination of three brothers - Rukshan, Keshan and Heshan Karunaratne. Rukshan, 21 years is the leader of the group, and is also a Chartered Accountancy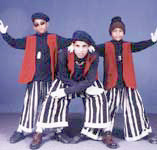 student doing the understudy at Ernst & Young.
Keshan, 14 years and Heshan 11 years are attending Isipatana College. They are active rugger players in school.
Rukshan was the leader of the dance group "Cool Guys" which is now defunct, is with a lot of innovative ideas and dance techniques. He trained his two brothers and now they are going to places everywhere in the country.
Their first show was at Bishop's College Auditorium a fashion show held a few months ago and then the Chartered Ball - 99 at Taj Samudra. They also performed at Green Breeze Dinner Dance at Trans Asia and thereafter performed at a musical extravaganza organised by the Hidraramani Sports Club .
---

MOVIE STORY SUM-UP FROM 1947
By Kumaradasa Wagista
Our first feature film 'Broken Promise' was screened even before we had gained Independence in 1948.
Since the release of 'Broken Promise' (BP) on January 21, 1947, our films very often witnessed heroes and heroines holding audience attention for specific periods. S. M. Nayagam presented this film for Chitrakala "It is with pride and pleasure Chitrakala presents to the four million Sinhalese of Ceylon, a picture in their own language for the first time, Mr Nayagam stated in a message on the day of its release.
Since its release about 921 local movies have been produced. However some of these productions have not seen the light of day.
It's a pity that almost all edited negatives of Sinhala films produced in Chennai Studios are not available. These negatives have been destroyed by those studio authorities as our producers did not take an interest to get them down to Sri Lanka. Adding insult to injury exposed negatives deposited in Vijaya Studios in Hendela and Ceylon Studios in Colombo have been destroyed by vandals under the guise of chauvinism. Had the Governments of the time taken up this matter with the High Commission of India these negatives would have been saved.
'Asokamala' the second feature film to be released was produced by Ceylon Theatres. Shanti Kumar Seneviratne and T. R. Goshu directed it and was released on April 9, 1947.
Singer Pundit Amaradeva, Lyric writer D. T. Fernando and Michael Sannas Liyanage who were involved in the production were felicitated recently.
Cinemas Ltd. made their film debut in 1953. Vijaya Studios was established by Cinemas Ltd in the sixties. Ceylon Studios was owned by Ceylon Theatres. S. P. M. Studios at Kandana was owned by film producer exhibitor Andrew Muttiah. The Government Film Unit which was at Velona, Moratuwa was shifted to a spacious building at Polhengoda, Narahenpita.
Although Rukmani Devi and Stanley Mallawarachchi played the main roles in 'Broken Bromise', Rukmani Devi enjoyed the privilege of being in the field for three decades after the release of her debut movie 'Broken Promise'. From ' Hadisi Vinishaya ' 50 (Hasty Decision) onwards B. A. W. Jayamanne directed several feature films till his last film ' Magul Poruwa.' '67.
Ceylon Entertainment made their films debut in 1955.
Sirisena Wimalaweera the self made made film director who invaded into film direction from dramas, made his debut film 'Amma' for Navajeewana Movietone, Kiribathgoda in 1949. Although Eddie Jayamanna played in most of the films where Rukmani Devi acted, this comedian was mostly coupled with Jemini Kantha and Mabel Blyth.
Rukmani Devi was also a gifted singer who sang and picturised her songs for films. It was the screen image created among the audiences that made producers to sign up the popular screen lovers of the time. A galaxy of film stars shone on the silver screen playing various types of roles have been introduced by producers during the first decade after' BP' Prominent among them were Henry Jayasena, Joe Abeywickrema, Ananda Jayaratna, Kanthi Gunatunge, Dommie Jayawardena, Rohini Jayakody, Ayasha Weerakoon, Ananda Weerakoon, Mark Samaranayake, Laddie Ranasinghe, Christie Leonard, Peter Peiris, Asoka Ponnampperuma, Kingsley Rajapakse, Girlie Gunawardena, Talatha Gunasakera, Baptist Fernando, Senadira Rupasinghe, Shanti Lekha, Piyadasa Gunasakera, Mark Samaranayake, Rita Ratnayake, Clarice de Silva, Bertram Fernando, Eddie Yapa, Alfred Edirimanne, Herbert Amarawickrema, David Dharmakeerthi, D. R. Nanayakkara, Millie Kahandawela, Aruna Shanthi, Denawaka Hamine, Leonie Weerasinghe, Shelton de Silva, L. M. Perera, Ruby de Mel, Leena de Silva, Prem Jayanth, Geetha Kumarasinghe etc. Most of them later rose up to be film directors or producers.
Screen lovers in our first colour movie Mike Wilson's ' Ranmuthu Duwa' ' 62 Gamini Fonseka and Jeevarani Kurukulasuriya reigned as silver screen lovers for little over a decade. After Jeevarani migrated to Australia her place was taken by Malini Fonseka. Thus began the Gamini Fonseka - Malini Fonseka era which was spread on later to Wijeya Kum-aratunga and Sanath Gunatileka.
Punya Heen-deniya, Sabita Perera, Sandya Kumari, Vijitha Mallika, Anula Karunatileka, Sriyani Amarasena, Suvineetha Weerasinghe, Sw-arna Malla-warachchi, Anoja Weerasinghe, Veena Jayakody etc. also played opposite Gamini Fonseka and Tony Ranasinghe, Ravindra Randeniya, Cyril Wickremage etc.
Cyril P. Abeyratna, Robin Tampoe, T. Somasakeran, Titus Totawatte. Christie de Mel, Stanley Perera, Ravindra Rupasena, Senadira Kuruppu, Herbert M. Seneviratne, Kithsiri Perera,
Writer, actor music director K. Hugo Fernando enjoyed the rare privilege of been in filmdom a little over five decades starting from 'Broken Promise'.
Florida Jayalath who made her debut in Cinemas's ' Sujatha ' became our first woman film director by making ' Sweep Ticket' in 1965.
Film director Sumitra Peries was the first film personality to be appointed an Ambassador.
Author Martin Wickremasinghe's trilogy 'Gamperaliya' 'Kaliyugaya' and 'Yuganthaya' were made by Lester James Peries.' Gamperaliya' won the Golden Peacock at International Film Festival of India (IFFI) '65 held at New Delhi.
Nita Fernando won the best actress award for Prasanna Vithanage's ' Pauru Walalu' at the Singapore International Film Festival '98. Prasanna Vithanage's ' Purasanda Kaluwara' gave Joe Abeywickrema the best actor award at this festival in '99.. Sugathapala Senerath Yapa's 'Man & The Crow' bagged the main award given to short films at IFFI '70.
The first Sri lanka Australia co production 'Mandakini' was released in 1999.
With the fading away of the old brigade of film personalities young talent from the new generation came into limelight. Sangeetha Weeraratna, Yasodha Wimaladharma, Dilhani Ekanayake, Kamal Addaraarachchi, Dilani Abeywardena, Nadika Gunasakera, Linton Semage, Damith Fonseka are only a few of them to mention. Local and foreign films were distributed by the private sector throughout. Film personalities unsatisfied with private sector destribution of local films agitated resulting in the formation of National Film Corporation ( then State Film Corporation). It was was established by Act No. 47 in 1971.
The government has now decided to denationalise the distribution of local films and importation of foreign films.
---

Wizard on the Keyboard
Give this guy a Keyboard, tell him what you want to be played and rest assured you have got it perfectly well. True to the word he is a real wizard on the keyboard.
This is how Pimal Fernando could be classified for his wizardry with his fingers on the Keyboard.
This youth who has just blossomed into manhood began as a semi- professional seven years ago and a professional two years back is today a maestro.
Pimal started tickling the keys at the tender age of five years. He was able to do this simply because there was a Piano at home, an item very common in any of the households at Moratuwa. His mother was an organist, his father too is blessed with the gift of music and plays the violin now. He helps vocalists and backs them up at recordings.
At the age of nine years Pimal began his lessons, primarily learning to read music. However, he did not do this for very long. He went as far as Grade Four only. He has stopped because he had felt it was unnecessary to read music to produce tunes.
At the age of 15 when he had sufficient leisure times especially after completion of his exams, he had decided to join a pop group. But he did't like to play piano as he did not fit in. He was fascinated by the electric organ. He was so keen that he had decided to learn how to play this instrument. However he had drawbacks and could not afford to buy one. He did not give up, and with sheer grit and determination he managed to hire one and practice. He spoke to some of his music minded schoolmates and spread the fever among them. Five such had got together and formed the group "Cambrians" because they all studied at Prince of Wales. This group did not last very long. They had played at two carnivals only.
He has been a hit at music in school too. He had played the Piano accordian for the Western Band. He had sung soprano in the school choir, in the year 1981. He handled the school band.
Pimal sang tenor for Lylie Godridge with the Moratuwa Choral Society. Pimal became a professional when he joined the Golden Reeds. He was attached to this group for 2 1/2 years. He did vocals with them. He also has performed as a pianist in various hotels down south.
Pimal had broken off with this group when he was spotted by the leader of the Super Pink 'n' Purple Band Lincoln De Silva. Lincoln had done very much for him. He had made Pimal play all types of music from rock to jazz. Pimal learnt playing punk style punk music, rock & roll, country and western and even jazz under his able guidance. Pimal attributes his success to Lincoln and his own grit and determination.
Pimal was one of the pioneers to join the group Shakthi as their first keyboardist. Pimal still sings his repertoire comprising of sentimentals, ballads and standards, techno music pop songs etc.., and he is fully occupied in duo music, specialising in western and oriental music. He is sometimes accompanied by a female vocalist. He is also one of the orgainsts attached to the Methodist Church at Moratumulla, Moratuwa and certain other Christian Church organiszations. Amidst a veriety of selections to his credit, Pimal prefers to play and sing spiritual songs whenever he gets the opportunity to do so.
Pimal is an executive attached to Ceylon Shipping Lines Limited and music is only a part-time profession for him.
---

New websites for HBO &Cinemax
HBO and Cinemax, Asia's premium movie channels recently launched two new websites for subscribers to access the latest information about the channels.
Viewers can check out the user friendly sites - www.hboasia.com and www.cinemarasia.com for the latest updates, on HBO and Cinemax.
Both sites contain comprehensive lists of all the movies and the synopsis which both HBO and CINEMAX are showing of the current month and the following month. Viewers who wish to plan ahead to accommodate their working or travelling schedule can now do so with the two month daily schedule provided on the websites. Thus, it helps to ensure that these busy movie fans do not miss out on any of the latest movies on HBO & CINEMAX.
On the CINEMAX website, viewers will also be able to retrieve information about the schedules & movies under helpful features of MAX RECOMMENDS, COMING SOON, WHAT'S ON MAX, SPECIALS & ABOUT MAX.
Based in Singapore, HBO Asia is the pay television service of HBO Pacific Partners, a joint venture of Time Warner Entertainment (Home Box Office & Warner Bros) Paramount Films of Southeast Asia Inc. Sony Pictures Entertainment & Universal Studios Inc.
---

NiRo : 'One Man' trio
Most of the 'one man' bands operating sometime back, became duos trios or even four piece outfits.
So it's very difficult to find a genuine, Live 'one man' band these days. most one man musicians and duos depend on sequencers a lot.
Nihal Fernando who has more than 30 years of experience as a musician, operates his one man band without any sequencers.
He plays keybords and sings English and Sinhala songs both latest and oldies.
"I adjust my repertoire to suit the occasion and I don't believe in 'set menu' type repertoires," says Nihal. He performs mostly at weddings and private parties.
Rohan joins Nihal only for special performances as Rohan is busy with his day job. Rohan plays the guitar and does mostly English songs. He's a good compere too.
Thilak Perera is also a guest singer, who joins Nihal when Sinhala songs are required. He sings Clarence, Annesley, C. T. Fernando, Milton M. hit songs as well as some English oldies.
Thilak is the president of Moratuwa Arts Forum and he is the founder of M.A.F.
This year Nihal has been elected as the treasurer and both Thilak and Nihal are very active members of M.A.F.
Nihal did a guest spot at M.A.F.'s annual sing-a-long festival 'Down Memory Lane.'
Nihal hopes to do a music cassette for the year 2000 with a difference. "I hope to give it as a dedication/souvenir to the people who helped me in my career and to the people I love and respect" says Nihal.
"After Rohan joined me, we decided to call ourselves 'NiRo.' Now every body knows us as NiRo. So I go as NiRo even though I play alone or I perform with Thilak" Nihal added.