Lessons from Jennings
Foreign Minister Lakshman Kadirgamar recalls his days as a young undergrad
In 1950, the University of Ceylon at Thurstan Road was beginning to come alive. The University College which had been affiliated to the University of London had been transformed into our first national university. A number of faculties were already in existence.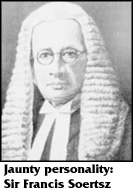 The Faculty of Law was established in 1947 and the first Professor of Law was the dapper Sir Francis Soertsz, then recently retired senior puisne judge of the Supreme Court. He was a very attractive personality who always came to class in a natty double-breasted dark suit, wearing a jaunty bow-tie and his trademark hat. He lectured to first year students on criminal law of which he was an acknowledged master both as a highly successful practitioner and as a renowned judge of the Supreme Court who had made a significant contribution through his judgements to our jurisprudence in this area.
He had a great sense of fun. His lectures were always enlivened by amusing anecdotes drawn from his own experience of the criminal law in action. His jokes were often risque and brought blushes to the cheeks of the lady students. He brought to the faculty a strong sense of reality. We learnt from him a great deal about the practical workings of the criminal law, how it functions out there in the wide world and the deficiencies and flaws of the system of criminal administration which Sir Francis had observed over a lifetime in the law.
Sir Francis died in 1951 and was replaced by the young, highly erudite, extremely shy T. Nadarajah who had obtained first classes in law at Cambridge University and the Inns of Court in London. Prof. Nadarajah had already written a standard legal textbook- the Law of Fidei Commissum which had gained early acceptance as a leading work on this complex subject in Roman Dutch Law.
The redoubtable Sir Ivor Jennings, eminent British Constitutional lawyer, first Vice Chancellor of the University of Ceylon, lectured to us, first year students, on Constitutional Law. Our own Soulbury Constitution - which Sir Ivor had virtually drafted - was barely two years old. Lectures took place on Saturday mornings at College House. Sir Ivor used to stroll in a few minutes after 9, trailing cigarette smoke, always dressed in a cream coloured suit. He was a chain smoker of Three Roses. He was a lanky man - tall and angular. His head was unusually long.
Sir Ivor lectured for more than an hour without a notebook or a book or a scrap of paper in front of him. The hallmark of his lecturing style was lucidity. In Sir Ivor's hands, complex developments in Constitutional Law became easy to follow. He was full of stories, yarns perhaps, about how our constitution was drafted. On occasions he would leap out of bed at 3 o'clock in the morning with an idea, pour himself a Scotch whiskey, light up a cigarette and think through his problem for many hours.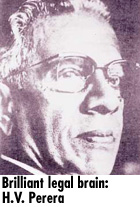 Sir Ivor was full of praise for two of our own leading personalities of the time - Mr. H.V. Perera, K.C. and Mr. D.S. Senanayake. Although Sir Ivor was known to have a high opinion of his own legal capacities he spared no praise for Mr. Perera's legal acumen. He openly confessed his indebtedness to the great H.V. to whom he took his knotty legal problems for solutions. He told us he had great faith in the sagacity and good sense of Mr. D.S. Senanayake. Sir Ivor's conviction that Ceylon after Independence would develop sound constitutional norms and practices including fairplay for the minorities was based almost entirely on his conviction that their future was safe in the hands of D.S. Senanayake, the quintessentially British gentleman-politician who could be trusted, the kind of man on whom the unwritten constitution of his own country was founded. Little did Sir Ivor realize that within a year or two D.S. Senanayake would be dead and that the destiny of the country would take a different direction.
Sir Ivor took the Law Faculty to Peradeniya in 1951 to be the first residential faculty of the new university. It was said that Sir Ivor wanted it to lead the way in 'Oxbridgising' our national university. All three batches which comprised the Law Faculty for the academic year 1951/52 were directed to take up residence in Arunachalam Hall by September 1951. The total faculty was at that time 30 or 40 strong, divided into three years.
Arunachalam Hall was spick and span and afforded the most luxurious accommodation imaginable for undergraduates. Each undergraduate had virtually two rooms for himself because the hall was meant to accommodate at least three times as many as the Law Faculty could provide. Sir Ivor had ordained that the evening meal would be conducted with a certain degree of Oxbridge ritual- the students would wear black half gowns and tie and sit at long wooden tables while the teaching faculty (or Dons) would sit at the High Table.
The proceedings would begin with a toast to the Queen. At the first dinner itself, a group of students refused to toast the Queen and the dinner broke up in disorder. At subsequent dinners, there was a repetition of this situation and the idea of holding formal dinners had to be abandoned. In other ways the Law Faculty showed that they were not willing to accept Sir Ivor's ideas for the ambience of Peradeniya. There were strikes, sit-ins and other forms of pseudo trade union activity. Sir Ivor was a deeply disappointed man.
The new university itself sparkled in the glory of this new environment. Everything seemed so fresh and green, the climate was ideal, the library and other facilities were excellent. And although there was a degree of loneliness as there was no city to relate to, most students in that very first year at Peradeniya were content. The final process of completing other halls of residence developed at an accelerated pace and in the academic year of 1952 the rest of the University at Colombo was moved to Peradeniya. All the problems of congestion and overcrowding began to appear and the idyllic atmosphere of Perdeniya began to get polluted.
In the immediate aftermath of the war, a parallel development took place when a number of young men who had the necessary qualifications and ample means found their way to Oxbridge itself. Gamani Corea (our leading economist and first Ph.D. in economics), Lal Jayawardena (another of our leading economists, a double first and a Ph.D), Upali Amarasinghe (English scholar, outstanding sportsman, Ph.D. in English and a Boxing Blue), Ranjan Amarasinghe (first in classics and law and Ph.D. in law), Sinha Basnayake (first class in law), Lalith Athulathmudali (first president of the Oxford Union) were some of those who made a name for themselves and for the country in Oxbridge in the early to the mid-Fifties.
It was an era of heady political activity on the British University scene. The Hungarian and the Suez crises brought left-inclined students on to the streets. Pop and jazz music was just beginning to be shaken up and the student dress was becoming more adventurous. The hardship years for British students immediately after the close of the war had given way to a general more comfortable time for them, with better stipends and allowances. The Ceylonese students moved well in this atmosphere, and made many friends.
The rapid onset of decolonisation at that time also helped greatly to give the third world students a place in the venerable pastures of Oxbridge. Racism was present in patches here and there and had not yet assumed the virulent form it took in later years. Most, if not all, of those students of the 50s came back to Ceylon once their work was done.
Lakshman Kadirgamar, P.C., MP, Minister of Foreign Affairs was among the first batch of undergrads who entered the new Law Faculty at Peradeniya University. At Oxford University later, he became the President of the Oxford Union.